What are the Fire Safety Signs?
Fire safety signs are used to provide health and safety information, either to warn you of a hazard, to provide an instruction or to give you safety information. Safety signs can be a variety of colours – usually red, green, yellow or blue – and may contain images, words or a mixture of the two. It's essential that you adhere to the fire safety signs in your workplace and any other public space: they are there for your safety and ignoring them could have serious consequences.
Which Fire Safety Signs are Needed for Fire-Fighting Equipment?
Fire Extinguiser sign -
Displayed next to all fire extinguishers to easily indentify the nearest extinguisher
Fire Alarm sign -
Fire Alarm call point site locate at all fire alarm
Fire Hose Reel sign -
A fire hose (or firehose) is a high-pressure hose that carries water or other fire retardant (such as foam) to a fire to extinguish it.
Fire Blanket sign -
Locate t all fire blanked location.
Which Fire Safety Signs are Needed for Emergency Exits?
Fire Door Keep Shut sign -
Displayed on each side of all fire doors to ensure safety.

Fire Exit Sign -
Displayed along all designated fire escapes route(with arrows) and above all emergency exits(withouts arrows)
Fire Assembly Point sign -
A pictogram or a written sign displayed at the outside points of assembly where people must gather after evcuation.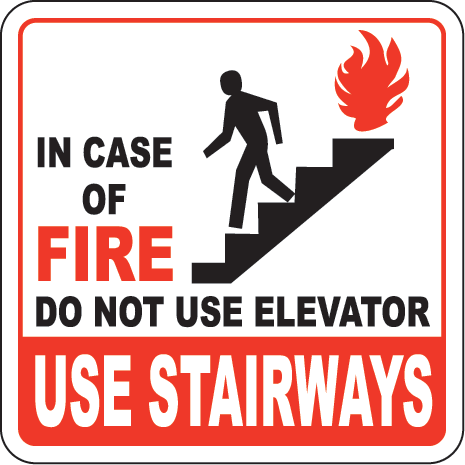 Fire Stair sign -
Informative sign displayed aside the lift and at the top of stairs case so that people will know not to use lifts for safety reasons